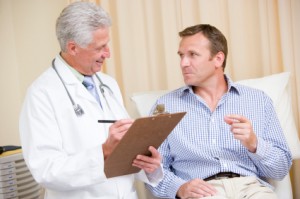 It is not uncommon at all for men to experience some degree of sexual dysfunction after prostate treatments. And since prostate difficulties are also not uncommon, we at All Natural Energy, the makers of Vitalitas, want to let sufferers know that they have an alternative in our product. Vitalitas is a completely natural male enhancement supplement with a number of overall health benefits, including the ability to alleviate the unpleasant side affects – such as erectile dysfunction (ED) – of prostate treatments
Common Prostate Treatments
The prostate gland produces the fluid portion of semen and is about the size of a walnut. Since it surrounds part of the urethra (the tube that empties urine from the bladder) the prostate is close to the nerves that control erections. When malignant, or cancerous cells form in the gland's tissue, common treatments include:
Surgical removal
Cryotherapy
Radiation treatment
Hormone treatment
Photodynamic therapy
Prostate Surgery and Post-Operative Erectile Dysfunction
A surgeon can usually spare, or protect, the nerves that control erections during prostate surgical procedures. However, the extent and duration of post-operative ED also depends on factors such as age, preoperative functioning, the stage of the cancer, the type of surgery performed, and the skill of the surgeon.
There are two common ways to surgically remove the prostate:
Open Prostatectomy – the surgeon operates directly on the prostate to remove it
Robotic-assisted Prostatectomy – the surgeon operates robotic surgical arms placed inside the body
*Even if a nerve-preserving technique is used to protect the nerves that control erections, varying degrees of ED will occur immediately after surgery, but may subside.
Cryotherapy Treatment and the Probability of Erectile Dysfunction
In cryotherapy, controlled freezing kills targeted tissue in the prostate by causing cell trauma, necrosis (lack of oxygen), and apoptosis (programmed cell death) in malignant cells. This treatment is proving effective, but destroys all cells in the targeted area, not simply the cancer cells.
There is a high probability of ED when freezing the entire prostate; however, some physicians may save sexual functioning by using nerve-preserving procedures.
Erectile Dysfunction After Radiation Treatment
Erectile dysfunction is the most common, long-term side-effect of radiation treatment, however the likelihood and severity of ED decreases if the following, more advanced radiative techniques are used:
Brachytherapy (radioactive seed implants)
IMRT (intensity-modulated radiotherapy)
3-D conformal radiotherapy
After radiation therapy, 50-60 per cent of men are able to resume normal sexual activity with the aid of a prescription medication, making natural male enhancement a wise alternative for those undergoing this type of treatment and would like to avoid prescription drugs and the risk of side-effects.
Hormone Treatment: Male Enhancement to Increase Testosterone
Hormone treatment lowers the body's testosterone levels. Lower testosterone levels have the undesirable side-effects of both ED and a decrease in sexual desire, which typically occurs between two to four weeks after treatment begins. An all-natural male enhancement product like Vitality that increases testosterone and sexual desire after this type of treatment can help.
Photodynamic Treatment of the Prostate
In photodynamic therapy (PDT) a photosensitizing agent is injected into the patient. The agent is absorbed by all cells, but remains in malignant cells longer and makes them extremely sensitive to a particular kind of light. After 24 to 72 hours, malignant cells exposed to the light produce a type of oxygen that kills them.
In vascular targeted photodynamic (VTP) treatment, the photosensitizing agent targets blood vessels supplying oxygen to the malignant cells. When exposed to light, the blood vessels are destroyed, causing the malignant cells to die.
PDT and VTP are still under investigation in the U.S., and therefore not much is known about ED as a side-effect of these treatments.
Vitality Male Enhancement Pills: Your Alternative
The following are some of the common treatment options for ED in men who have received prostate treatments:
Drugs to increase blood-flow and/or testosterone
Penile implants and suppositories
Intracavernous injections in the penis
Vacuum devices
At All Natural Energy, we believe that all-natural male enhancement provides a better way to treat ED. With use of Vitalitas, we hope you'll be able to resume healthy sexual activity within six weeks of prostate treatment. Our goal is help you minimize the extent and duration of ED after any type of prostrate treatment. With the all-natural, effective ingredients in Vitalitas male enhancement products, we're so sure we can assist you, we invite you to take the Vitalitas Challenge. Please see our about us page, and purchase Vitalitas online to save!

Social Share